The time has changed, in the past, we used handwritten letters and cards for inviting people to the weddings but now it's the modern age of technology, and we use phone calls, WhatsApp messages, emails, and other social media platforms.
These digital invitations include Digital cards, Invitation videos, and much more, in this article, we'll talk about the second one which is invitation videos and by the end of this blog you'll be able to make free invitation videos for your wedding.
So, without wasting any time let's jump right in.
It's the best method if you don't wish to install any free software and do it all online. Seemymarriage is a website that provides you with a platform where you can create short wedding invitation videos.
There are hundreds of free templates available on this site and you can choose any one as per your choice. You can even edit the text of the video as well as the images to be included.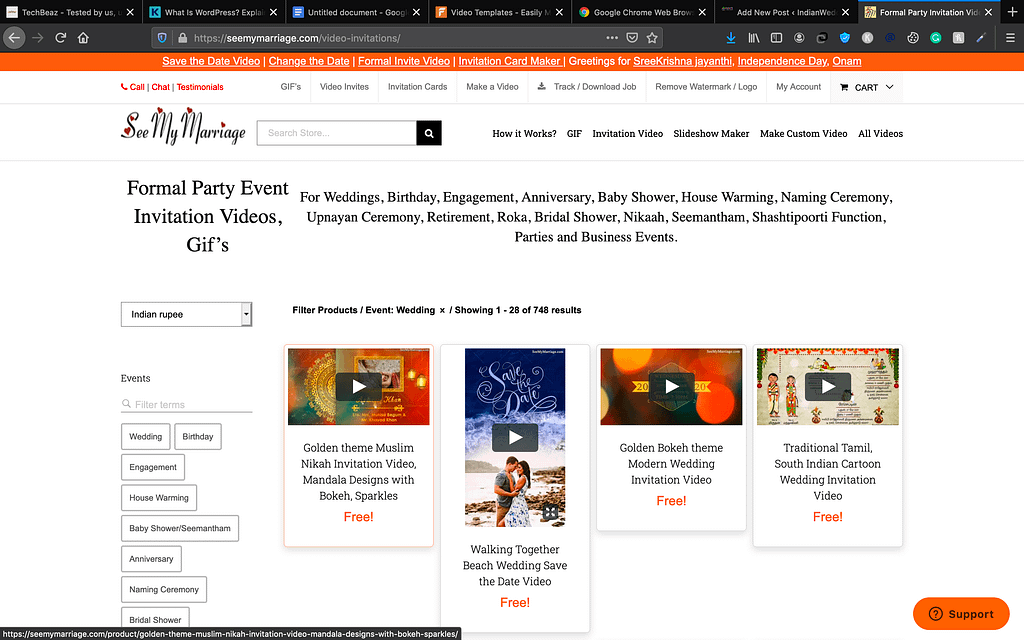 You can put the bride and groom's name, wedding day, date, time, and venue in the video. Once you're done filling the requirements, at last, you'll need to submit your phone number and email address, and the video will be delivered to the submitted email.
Let's discuss the Pros and Cons of this video maker now,
Pros
No need to sign up on the website
Hundreds of different templates
A lot of customizations are available
You can add custom images as well.
Cons
Slow processing
Video length is limited to around 1 minute
Animaker is another online tool that you could use for creating beautiful wedding invitation videos. It's a more professional tool as compared to the previous one, you'll get an environment similar to any professional video editing software.
You won't find a large variety of templates but the other functionalities of this tool won't let you miss them. This tool features a timeline where you perform editing and stuff. Tons of background effects and templates are available for free.
Animaker even provides the feature of adding scenes to make the video longer and add more information to it, free music and video templates are also available for free.
Some other features include Shapes, Text, uploading files, and some other special effects. In the end, you can directly download the video in the mp4 format.
Let's have a look at the Pros and Cons now,
Pros
Similar to professional software
Highly customizable videos
Features uploading files
Free music and video templates are available
Different background templates for free
Video is directly downloaded in mp4 format
Longer videos can be made
Cons
Sign up is required
A bit complex to use because of too many features
Animoto (Average choice)
It's again an online tool for creating videos, Animoto comes with hundreds of free templates that you can use for your wedding's invitation videos. Tons of music templates are available for free and you can even add your own music.
Moreover, you can change the Theme, Font, and Text style as well. Animoto provides you with the option of uploading images and at the same time stock images are also available for free.
The final result can be downloaded directly in the mp4 format.
Pros
Stock images available
Hundreds of templates
Different text styles
Music templates
Cons
Limited features
Watermark on free videos
Signup is required
LightMV (Above average choice)
LightMV is a software that you need to download on your computer, it's like any other video editing software but default templates are available.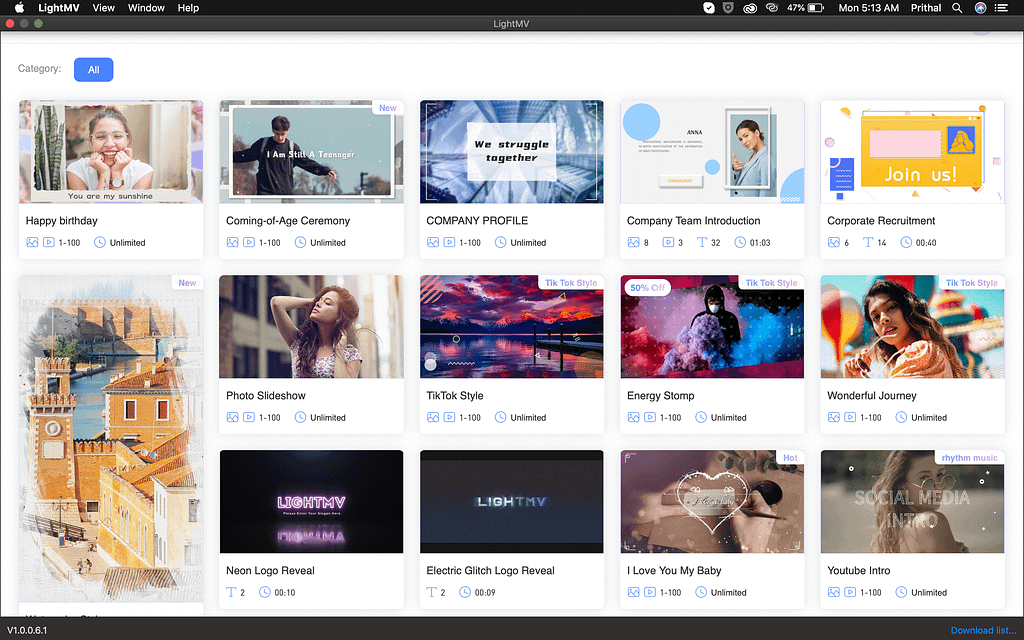 This software allows you to change the music and uploading feature, moreover, you can add text, files and photos to the video. Once the editing is complete you can produce the video and then download it.
Pros
Different templates
Nice user interface
Uploading features
Cons
Limited customizations
Rendering time is high
Flexclip.com (Perfect choice that we recommend)
Flexclip is a website where you can easily create your wedding invitation video for free. You just have to search for the "Wedding invitation video" in the search bar on the website and then you can choose the desired template.
You will be allowed to customize the template using tons of options like Text, Overlay features, and Widgets, with a nice timeline as you can see in professional video editors.
Also, you can apply filters, control speed and adjust other factors like Saturation, Highlights, Tint and much more. Features like Add music, opacity and Ratio are also available for free.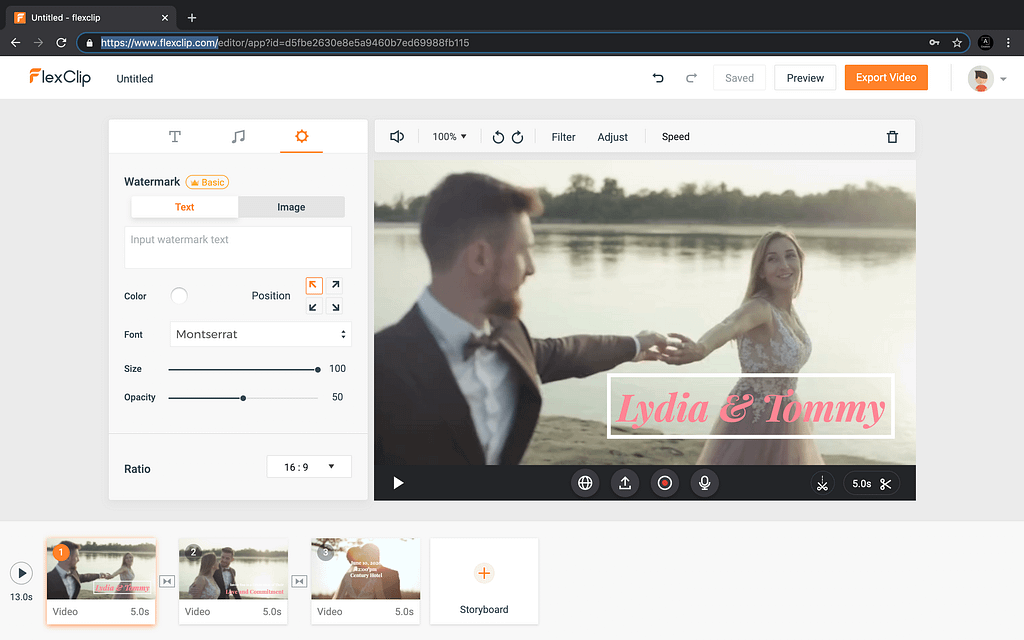 Once you're done editing you just need to click on the Export Video button and your video will be downloaded to your computer. You'll be allowed to download in 480 p resolution for free while you'll need to pay for higher resolutions.
Pros
Loads of features
Different templates are available
Professional video editing environment
Easy to use
Fast
Cons
Watermark with the free version
Wedding Invitation video at cheap rates
It's not possible for everyone to take out time and create their own wedding invitation videos and I know you want to maintain the wedding budget as well. So, here we have some methods by which you can order ready-made invitation video at very cheaper rates.
I guarantee these methods would help you stay with the budget, ad at the same time save you time.
Hire a freelancer
Freelancers are the people who take online orders for a particular job and completes them within a specific period of time. Hundreds and thousands of freelancers offer video editing services online.
Some of the top freelancing websites are:
Fiverr.com
Upwork
Freelancer
You can go to these websites, create an account and get the job done within 2-3 days. A 60-sec video would cost you around $10-$50, charges may vary from freelancer to freelancer. You just need to tell him the details and other requirements like wedding date, venue, name, etc and he'll get the job done for you.
Find nearby studios
You can even search for nearby video editing studios and they'll make the video for you at very decent rates. You can even ask your friends and relatives for suggestions.
Conclusion
We discuss 5 free to use options and 2 cheap options
You can go for cheap options if you don't have time
All the software are tested by us
You'll need to download LightMV software
If you guys are still facing any doubts please let me know in the comment section below. Also, tell me which one did you like the most and why?