Nowadays, weddings are being recognized with the word 'Mehndi'.
But do you really know the wonders of this magnificent art?
Mehndi, an intricate form of body art, was first originated in ancient India. This art was made using Henna, a pure herbal plant with healing properties.
Due to its health and spiritual benefits, men and women started using it in general livelihood. Soon, it became a part of many auspicious rituals and ceremonies.
Today it is proved how ancient rituals were intellectually advanced. Mehndi application which once started as a spiritual ritual proved to benefit the human body. Exposure of mehndi on the skin is found to soothe and cure the skin.
Marriages were one such occasion were extensively mehndi designs were used on children, adults, men, women, etc. These designs were made on the palms, face, legs, neck and so on. Different designs depicted different statements and emotions.
Take a look at how distinct styles of mehndi can completely change your overall look.
Latest Bridal mehndi designs for 2021
Now that you know the importance of mehndi, let's take a dig into the best mehndi designs for weddings.
1. The Traditional Touch
A traditional touch to your mehndi will amplify your aesthetic look. It gives a full-fledged celebrative vibe on events.
You can try out designs which pictorially depict rituals. These designs include Diyas, Sindoor, Wedding, Jhumkis, Bride and Groom, Swastik, and so on.
Choose this style on occasions like festivals, authentic weddings, or traditional ceremonies.
2. Checks with Motif
Prominent motifs surrounded by checkers designs is just the best choice for you. If you wish to emphasize on a particular pattern, then this style will help you do that.
Checks with motifs give a unique touch to your mehndi. At the same time, they do not even make your hands look monotonous or bland.
One can freely experiment with artistic designs in this style!
3. The Royal Design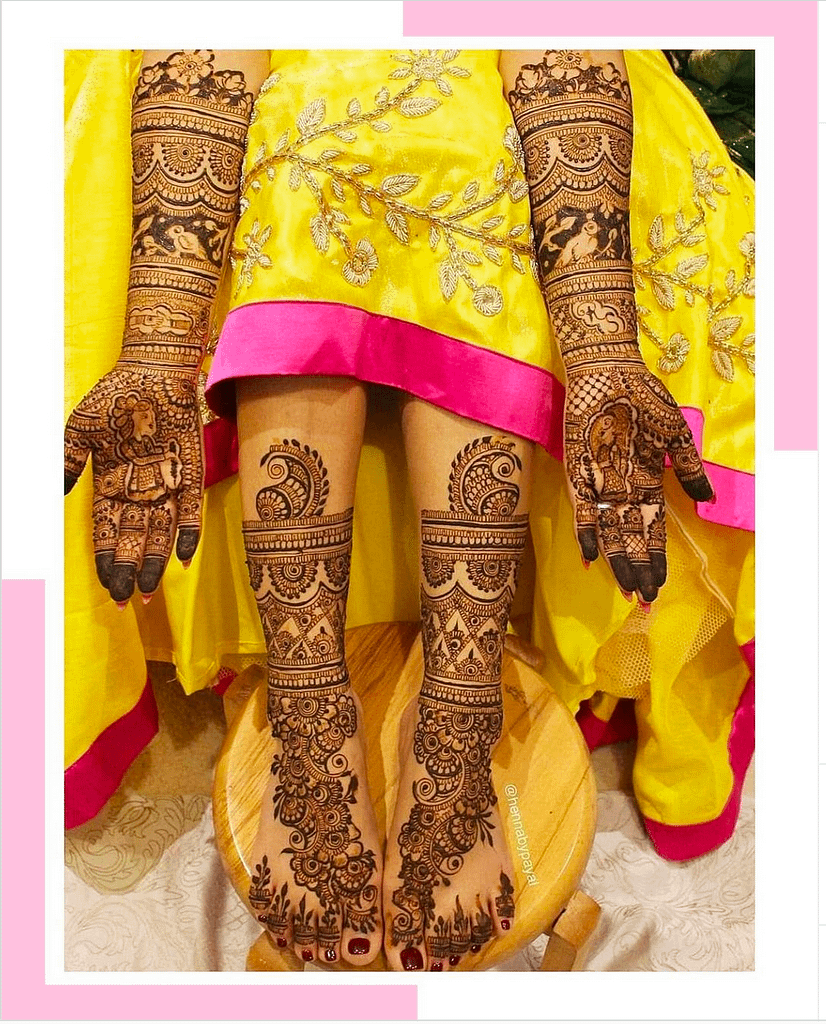 Want a royal mehndi design for a royal event? Call the king and the queen!
Yes, opt for mehndi designs that portray the royal kingdom elements. These famously include a king's half-face on one palm and the queen's on another. Furthermore, these patterns are given a richer look with surrounding petite elegant designs.
This is crowned as one of the best mehndi designs for weddings.
4. Curves of the Heart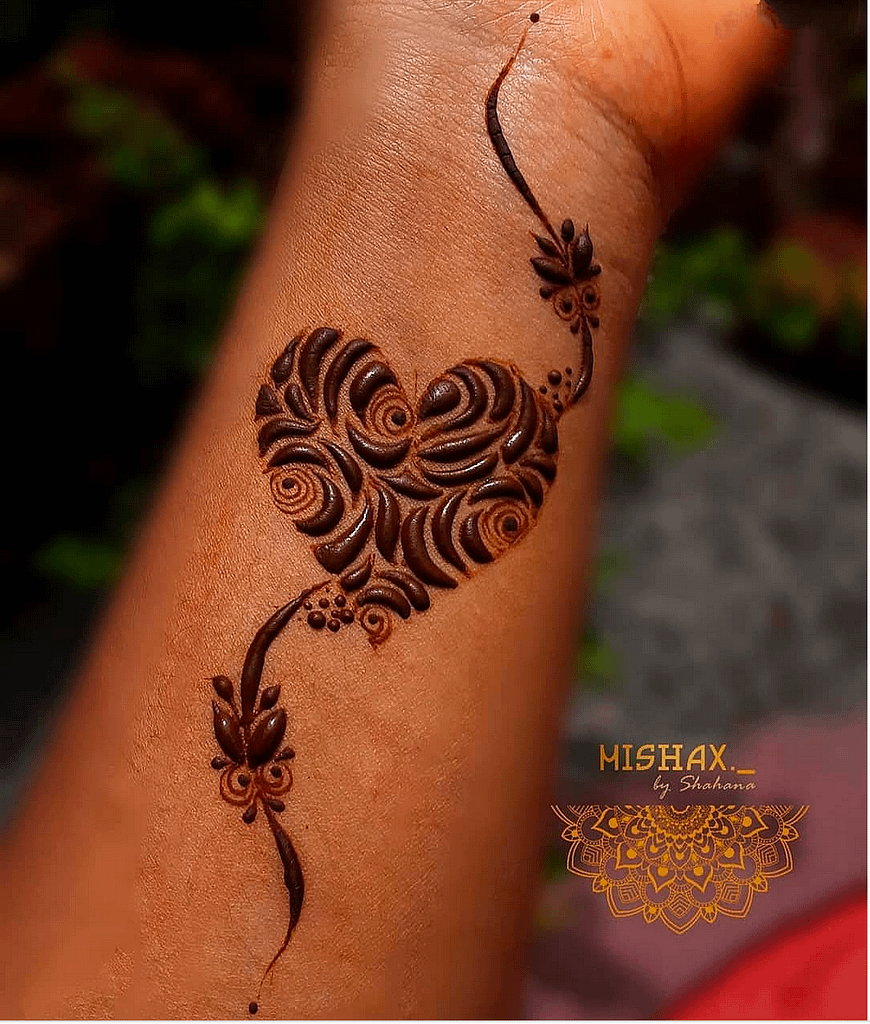 Trust the heart when you want the best!
Go in for mehndi designs that play with the curves of the heart in artistic ways. These designs give you a simple and cute look.
You can also add in curves of the peacock look to add to the elegance.
5. Magnificent Mandala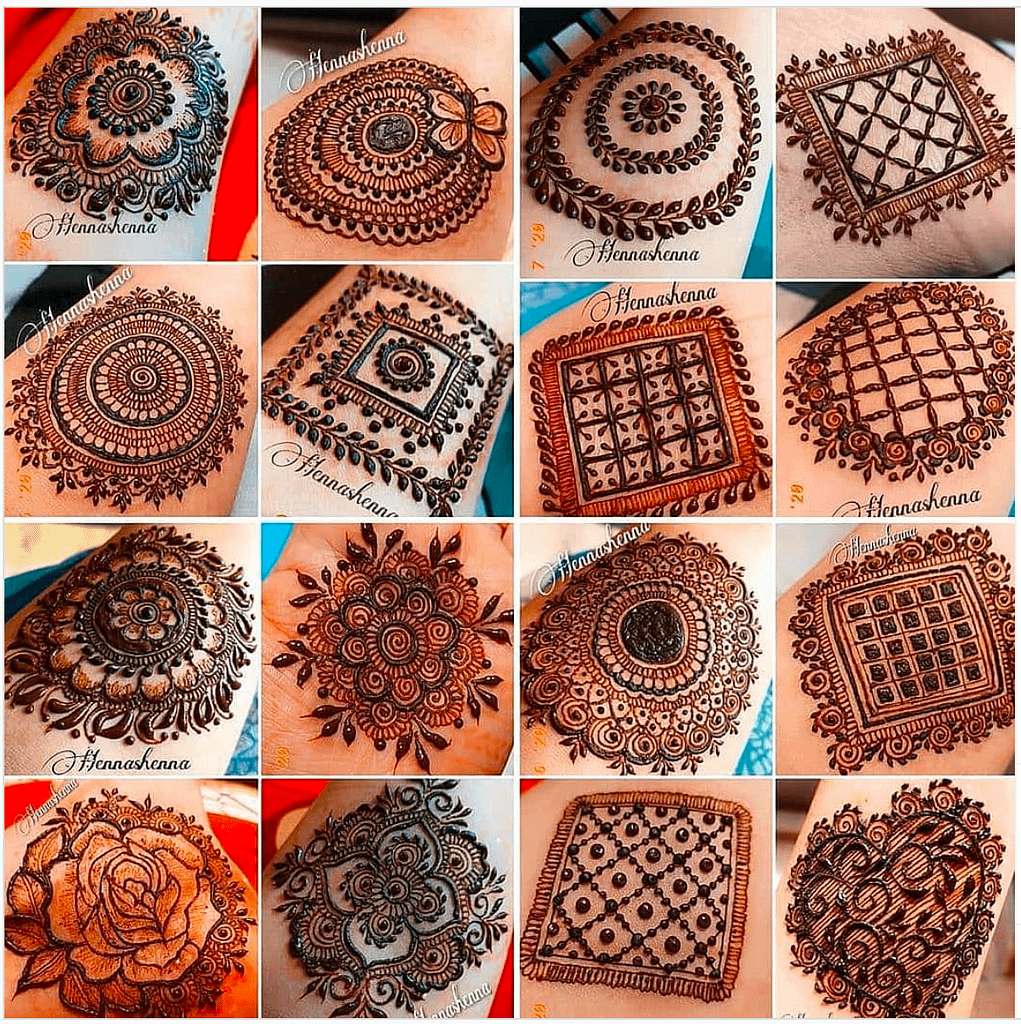 Mandala is the epitome of elegant art. This design can be seen on all traditionally aesthetic elements.
This simple circle design is indeed constructed with great intricacy. Hence, these Mandala mehndi designs look so full even with just one circle on the palm.
The spiritual angle to the Mandala circle makes it the best design for auspicious occasions.
You do not need to stress on background patterns once you have a majestic Mandala look in the centre!
6. Go for the Trails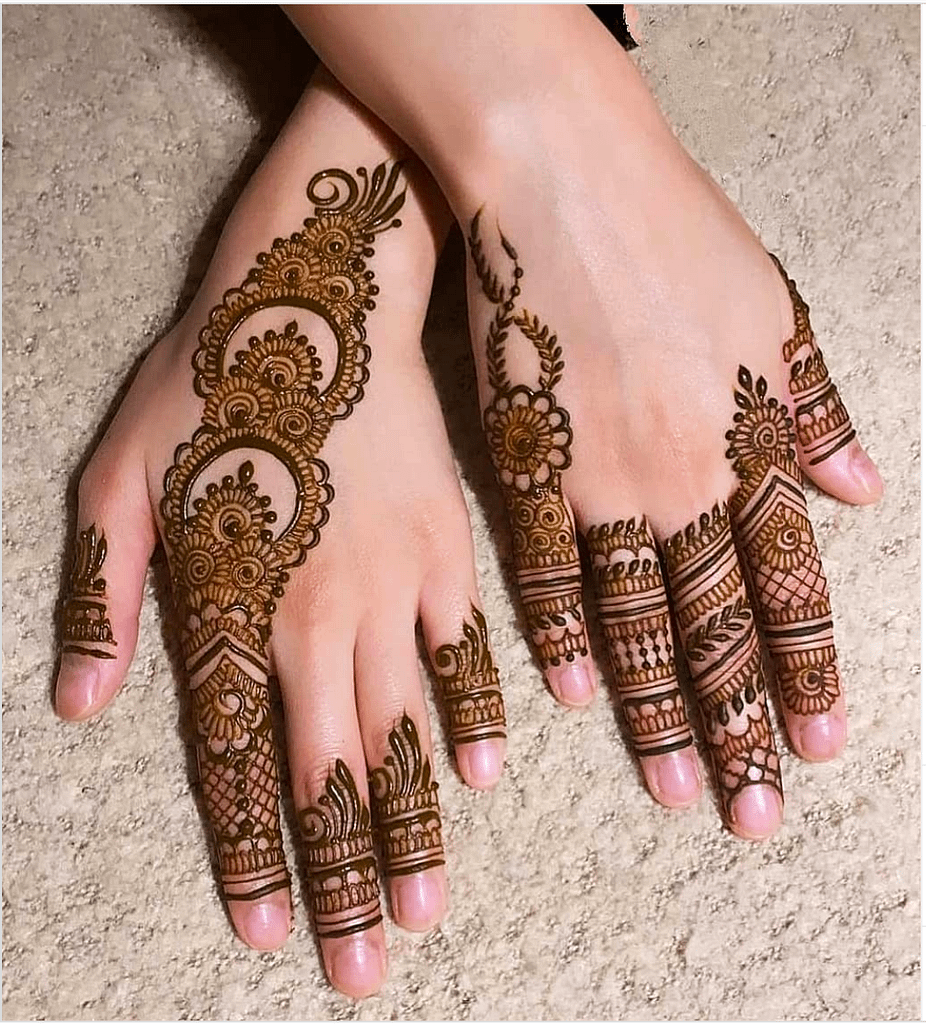 The popular trail patterns are commonly used in many parts of the Indian culture. They are simple yet soothing to the eyes.
Due to its simplicity and elegance, this mehndi design is made on both hands and legs. This includes front and backhand as well as upper foot.
The trail look also gives you room for artistic creativity. You can add your own touch of florals, or checkers, or dots and lines pattern over this.
Even if you are a beginner you can ace the trail look!
7. Fully Floral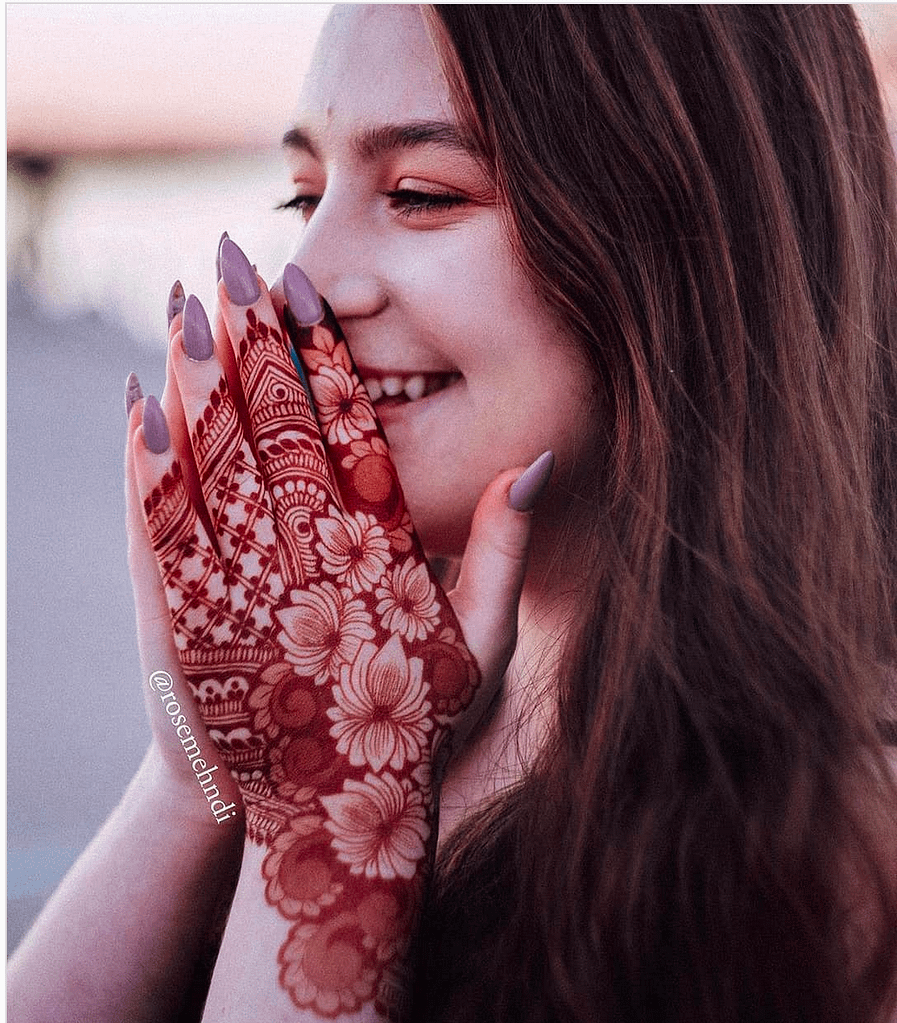 If you want to master that pretty look, go in for all florals!
There are a million variations in just the category of florals. These patterns are highly versatile and intricate. You can choose your own floral print based on the occasion.
Some floral designs are full of exotic work while some are minimalistic in nature.
You can generously use this design wherever you want and it will still give you the right look for weddings!
8. Multiple patterns and elegance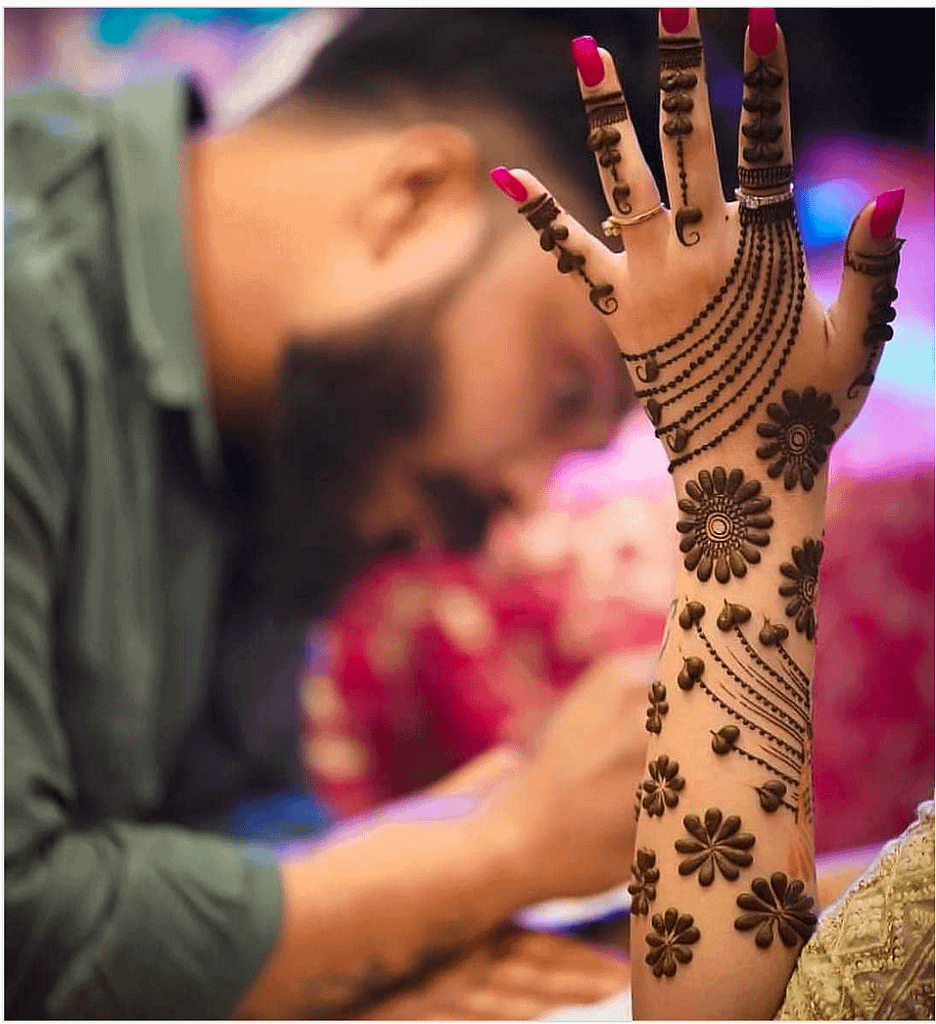 This multi-patterned design is the perfect match for the brides craving for an elegant Mehndi design with tints of both traditional and modern textures.
The design contains floral patterns, leaves, crossed designs, and a mix of several bold and light design strokes. This Mehndi design also contains some empty spaces to make it more contemporary and elegant.
The dotted textures and crossed design patterns add more charm to the Mehndi design, and this type is neither too messed up nor too empty, making it the perfect match for the modern-day brides.
9. Minimalist
Mehndi designs add more charm and attractiveness to the entire look of a bride. Apart from the attractive look insurer, Mehndi designing is also an essential tradition for both the bride and groom sides of the families.
This minimalistic Mehndi design is the best one, especially for the groom and the women who only want to add Mehndi's fragrance with more straightforward styles.
The minimal Mehendi design is both sophisticated and elegant.
10. Multiple unique elements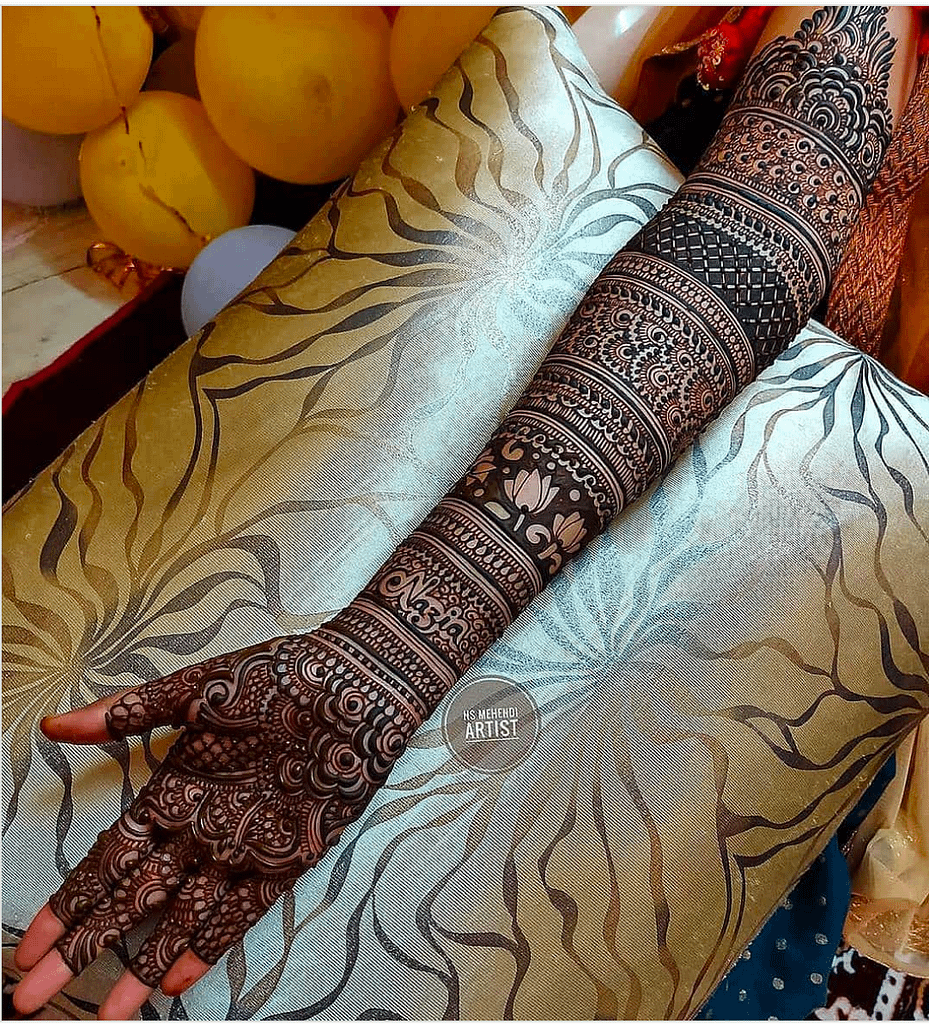 Mehendi containing many unique and standout elements is a different type for an array of reasons. Such designs have many unique elements combined to give a different look to the palms.
This type of Mehndi contains Warli painting, including the textures of tribal caricatures and other unique elements, like birds, earthen pots, jhumka, swings, dotted patterns, and many more.
11. Love story's depiction
Depicting a love story or the entire story from how the bride and groom met to the present day of getting married is the modern-day trend for the Mehndi designs.
This is one of the best Mehendi styles for the bride and is an alluring pattern with elegant looking symmetry.
This design is beautiful and hypnotizing and can be the eye-catcher and make the bride stand out from the crowd.
This entire Mehendi design adds several occasions to the bride's hands, like the two people meeting each other, the dates, the wedding day, and others, all embedded with the symmetrical patterns.
12. Princess like Mehndi design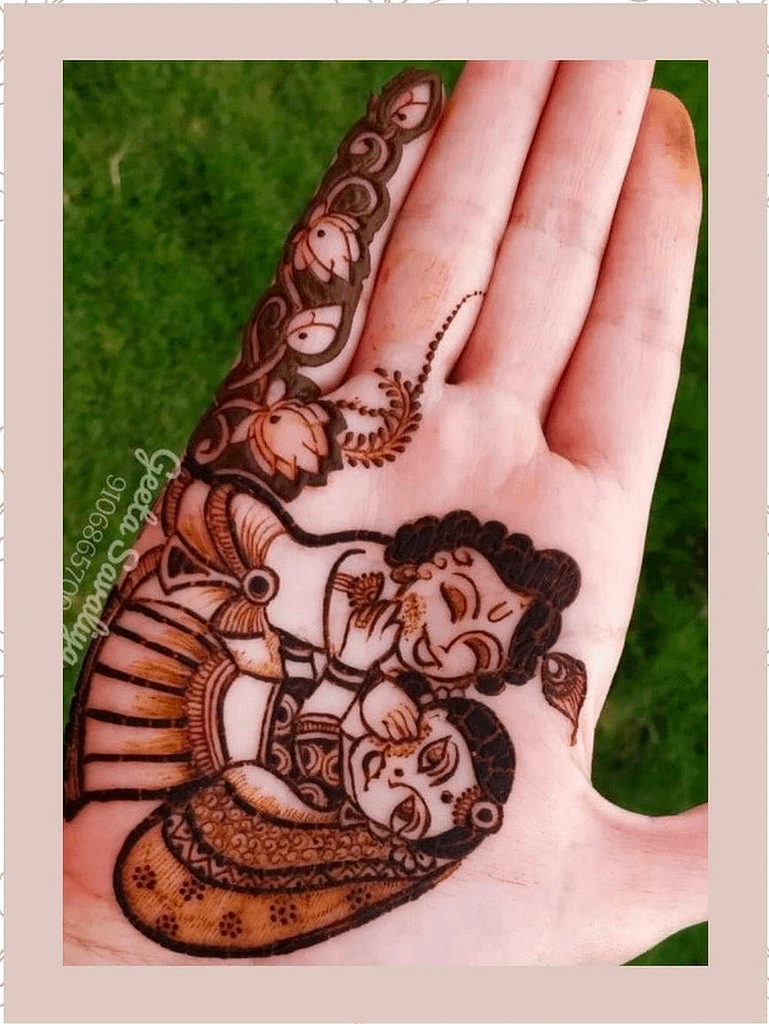 A bride is a princess in her wedding function days!
To let the World feel the same, this Mehndi design has elegant patterns and unique textures.
Such Mehndi designs depict the castles with portraits of prince and princess. The pattern can also be personalized with some rose patterns and the couple's names to add to its charm.
13. Line patterns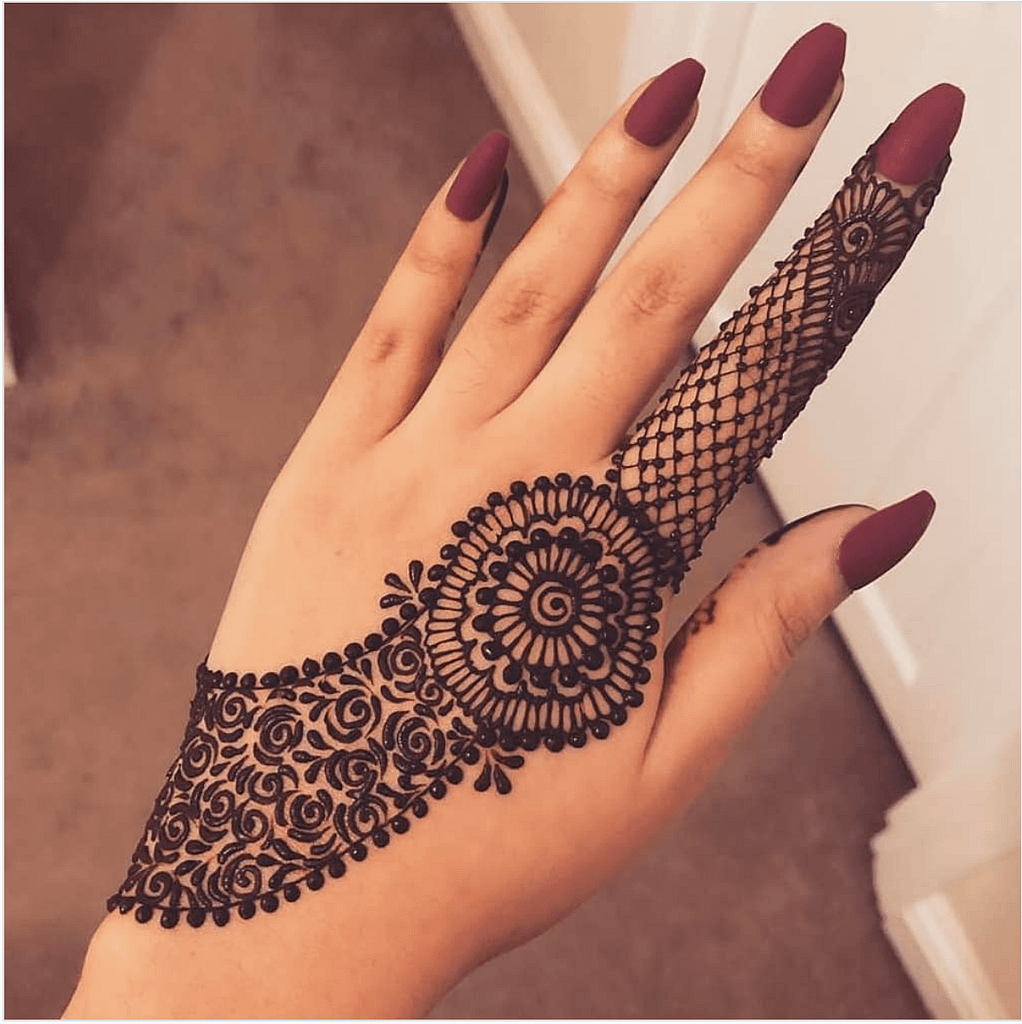 This contemporary Mehendi design is the right choice for modern-day women, especially the working and simpler-design-loving ones.
This Mehndi design includes a diagonal pattern at the palm's centre, making it more charming and attractive.
In this Mehndi design, the line patterns are also available at the fingers, but they are more straightforward and modish-looking.
14. Symmetrical pattern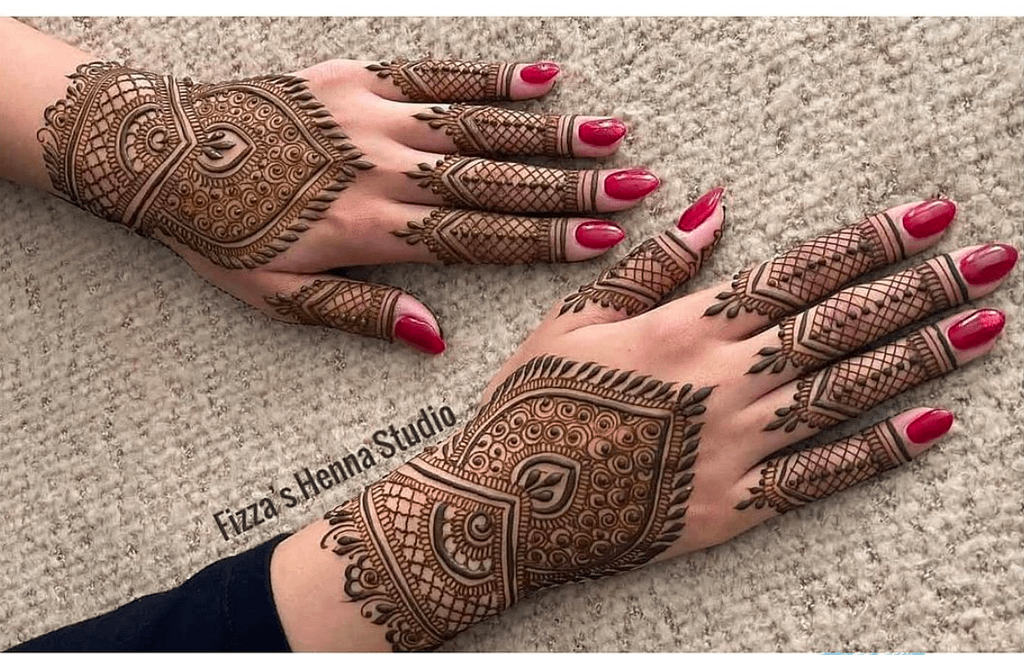 This Mehndi design contains some aesthetical visuals and geometrical floral patterns spread widely all across the palm region. In contrast, the fingers are all covered with the Mehendi design in this pattern.
Furthermore, in this pattern, the wrist region also contains eye-catching and pleasing band work combined with fine mandala art.
15. Spread intricate pattern
Intricate patterns spread all over the hand is another more interesting and simpler Mehndi design that modern-day women might prefer! Even though the design looks a bit complex, it is extremely simpler.
This Mehendi design contains some spirals and curvy patterns with repetitive design strokes and more straightforward floral motifs.
Some easier mandala design patterns can also be added to this Mehendi for adding a more traditional look to the entire appearance.
16. Minimal ring or fingertip designs
Just according to the latest trend, lesser designs are more appreciated and admired. These classy and chic ring designs on the back of the hand can impress anyone with their attractive charm. These minimal finger designs are highly eye-catching and exclusive and look just like some extended rings.
Unlike the elaborate designs that are tougher to draw, these fingertip or ring Mehendi designs are the best examples of easy decorative Mehendi.
17. Worth a drool
This is a jaw-dropping and highly-attractive Mehendi design with a mandala in the center. It is also decorated with some attractive patterns of the fingers.
Additionally, the wrist part is also covered in the design with some checkered pattern or other patterns similar to those of the fingers.
18. An accessory-like Mehendi design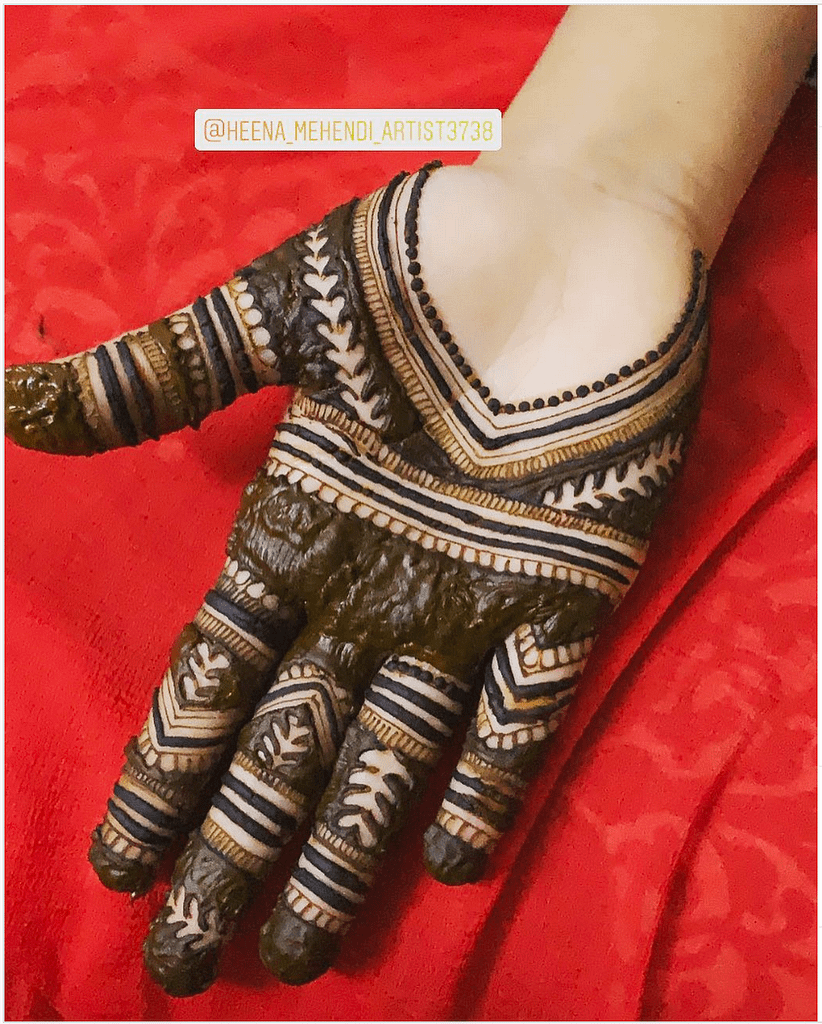 This is a more straightforward and exotic Mehendi design that looks much like some decent hand accessory. The design has a pearl-like detailing, making it more lovely.
These Mehendi designs might also resemble some exotic lacy glove or any bracelet. And the designing of these patterns requires immense neatness and precision.
19. Design carrying hearts and peacock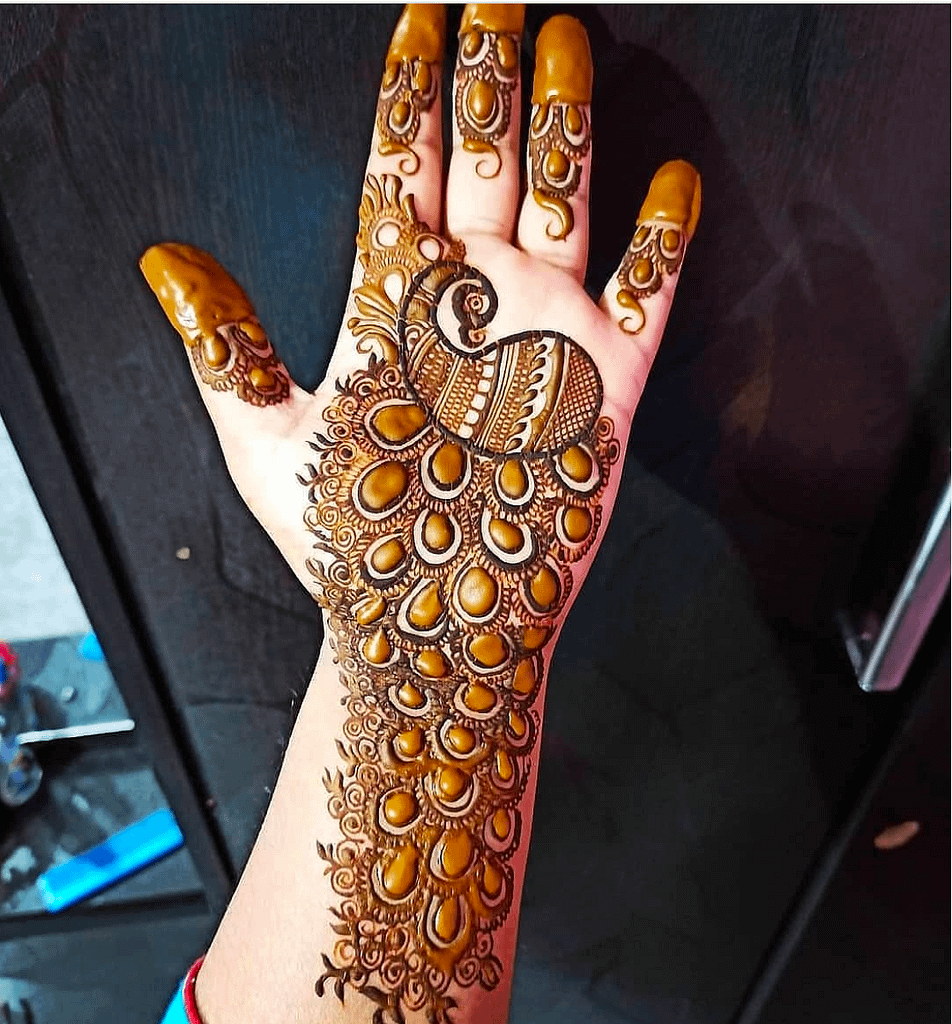 Bold designs like this one containing hearts and peacocks are more superficial and still serve to cover the entire space of the palms in a more elegant manner.
Mehendi is a special occasion of the wedding season where the winds of love and admiration flow everywhere. For such an occasion, this attractive design of hearts and peacock strokes with added patterns adds to the appearances' charm.
20.Make It Personalized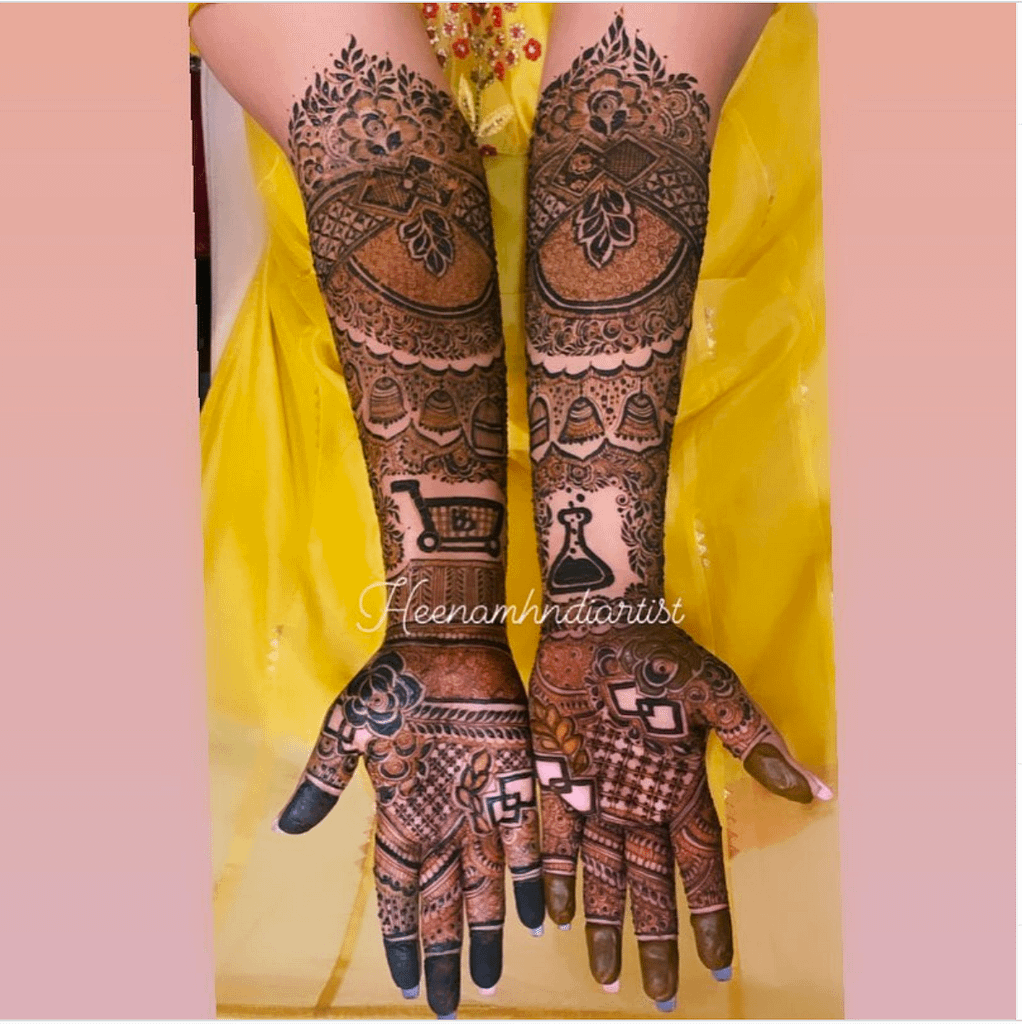 Which mehndi design is the best? Confused with so many options?
Why not design it yourself and frame your own story art! Yes, explore the personalized mehndi design look.
You can add patterns which depict your love journey till now. These designs may include the place you first met in or prominent items of your love story.
You can simply replicate your wedding look or faces on the mehndi designs too!
How can different styles of mehndi change your look?
The world of mehndi designs is vast and never-ending. There are millions of designs and sub designs under each design.
Every pattern has originated from specific parts of the world and used for specific purposes.
There is no one type of mehndi pattern that suits you. These designs often are chosen with respect to your attire, event, or mood.
Mehndi can be applied on all occasions, but you must know what goes with what. You can go in for rich elaborate designs on weddings and ceremonies. However, you are not advised to do the same in simple party events.
Patterns like florals, checks, dots and lines, waves, peacocks, hearts, etc. give you a cute and pretty look. Whereas traditionally heavy designs are known for their elaborateness.
Arabic designs are also famous for their elegance and uniqueness. These designs have a characteristic pattern. Their designs bring out the richness of their culture. Curves and floral patterns are more dominant in their designs.
In this way there exist many prominent mehndi design types for you to experiment. You must explore the wide platter of options in mehndi designs. Pick your type according to your style and event.
Pro tip: Experiment with new patterns that you have not tried before. If you are a minimalist, then try out the intricate and heavy work designs to change your look.
Conclusion
This list of beautiful and eye-catching Mehndi designs is a never-ending one and has several patterns and textures, with each of them having its beauty and preference factors. Mehendi itself is a massive occasion during the wedding season, and the entire family can have more charm added to their appearance with these top-rated Mehndi design patterns.
Be the diva that you crave, and add more elegance with the attractive Mehndi designs!